The Grammys happened last night, and in case you didn't watch here's what you missed:
Adele Owns Your Soul: Adele swept the show winning six awards. She also performed for the first time since having surgery on her vocal cords. I know I've said that I'm not a huge fan of Adele's heart-wrenching, angsty music, but I will say that she was stunning at the Grammys. No fuss,
no hype, just a bare-bones performance that showcased her raw talent. She was amazing. I loved her simple hair and classy black dress. She didn't need a boobie dress to make you want to watch her. She is a true talent. Normally I turn off "Rolling in the Deep" as soon as it comes on, but the live performance was terrific. Much more soulful than the radio recording. I was a fan. As much as I feel sad that Mumford and Sons didn't win any of the awards they were nominated for (I love them) because Adele swept all of her categories, I think she deserved those trophies. She really is a classic, gifted singer. I like that this year's show brought the focus back to raw talent instead of overproduced, flashy music.
The Beach Boys Are Old: The Beach Boys reunited to celebrate 50 years of their music. They were joined by Foster the People and Maroon 5. It was….it was a good effort. I definitely appreciate the Beach Boys' music but these guys looked pretty old. I know The Who and The Rolling Stones are no spring chickens, but at least they can still move around and rock and sing and whatnot. This whole thing had good intentions but just felt a
little…sad. I don't know. Maybe I'm a Cynical Cynthia. I was just not impressed especially when you compare it to the bad ass, kick ass, amazing ass finale that was Paul McCartney and Bruce Springsteen and Dave Grohl.
The Finale: Let's get to that part. Sir Paul can still rock. Hard. And when he's joined by other amazing musicians it's bound to be musical gold, which is exactly what this finale was. I will definitely be watching this on YouTube over and over (as soon as I can find it).
Rihanna and Coldplay, an odd yet great couple: I loved Rihanna and Coldplay's Chris Martin together singing "Princess of China." It's a great song and they sung it well. Especially considering this may have been the first time they'd ever seen each other in person. Coldplay's performance afterwards was a bit disappointing though. It seemed as though Chris Martin was having a tough time hitting all of the notes on "Paradise", which is odd because I normally think they're amazing live. But the glow-in-the-dark set was really cool and I loved how they darkened the whole theater and gave the audience glow sticks. But overall it was "meh" compared to the usual Coldplay standard of ABSOLUTE AMAZINGNESS.
Chris Brown performs twice, no one really knows why: I just cannot stand Chris Brown. Between the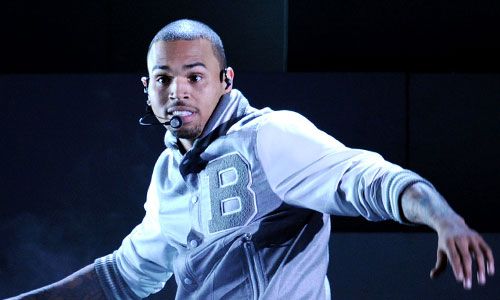 domestic violence, the freak outs on TV, the anger, the arrogance, he just seems like a cocky, crazy jerk. He's a good dancer and that's about it. I cannot understand why they let him perform once, let alone twice. Give Gaga the stage. Oh yeah, and don't give him a Grammy. Come on. *Update: Mr. Brown tweeted this and then deleted it. He is still an angry, angry dirtbag. And I still will never support him.*
David Guetta, Lil Wayne, the Foo Fighters, and Deadmau5 are cool though: Despite Chris Brown dampening their performance, Deadmau5, the Foo Fighters, David Guetta, and Lil Wayne gave great performances in an interesting mash up of music. I definitely enjoyed that.
Jennifer Hudson Pays Tribute to Whitney: The Grammys took on a somber done after the death of Whitney Houston the day before. Jennifer Hudson paid a beautiful tribute to Ms. Houston when she sang " I Will Always Love You" in a very stripped down, touching performance. It was a great way to pay respect to the legendary singer.
 Nicki Minaj has an English accent?: Nicki Minaj gave a…strange (to say the least) performance involving her, a kid called Roman, an Exorcism and an English accent. I don't really understand what happened but it was weird and Gaga-esque. Except Gaga somehow would have made it work. Just YouTube it and try to make sense of it. If you figure it out, let me know.
The Civil Wars are a great band, Taylor Swift is still super annoying: We got to hear 60 seconds of an incredible performance from a group called The Civil Wars. The song was country/blues-y and terrific. I would have loved to have heard more
from them. They were truly great singers who harmonized really well. Loved them. They opened for Taylor Swift, who I find extremely irritating. I know many people disagree with me, but I have to be honest. First of all, WHY must she always make the "Who me!?" face when she wins an award, gets a standing ovation, etc. Taylor, you've been winning awards and selling out stadiums for years. I get that you want to appear to be modest, but you don't need to be completely open-mouthed, (obviously) fake surprised every single time. You're not fooling anyone. Also, think about this: she's one year younger than Adele. Compare the difference in lyrics, music, and performance style between the two. Taylor's singing about someone who was mean to her and making hearts with her fingers. Adele is in a sleek black dress, belting lyrics about a failed relationship. Okay, I know I'm being a hater but…it's just the way I feel.
What were your favorite Grammys moments? What about least favorites? Who got snubbed?