I am not shy about the battle I fight with my skin. I don't have "bad" skin per say, but I break out from time to time and I have to work harder than most 23-year-olds to keep my skin clear. I'm still doing a teenager's skin care regimen as opposed to the "I'm 23 and can just wash with Cetaphil or maybe not even do that and it's still fine" phase I feel like I should be entitled to be in. But it's fine. I see a dermatologist regularly and read a lot about skin care. There are a few things I've learned that have really helped my skin stay under control, so I wanted to share them:
1.) Sephora's Daily Brush Cleanser:  This little spray from Sephora is awesome. It's inexpensive and quick, but works really well. Focusing on keeping my makeup brushes clean has helped me keep breakouts under control. If you think about it, applying makeup day after day without washing your brushes is basically asking for germs to collect on your brushes. I still do a thorough brush cleaning once a week, but this spray helps in between cleanings and I've seen it makes a difference. It also probably helps keep my brushes in shape.
2.) Mix up your skincare routine: Before I used to swear only by ProActiv or SkinID and that was it. The skincare system would work for a while,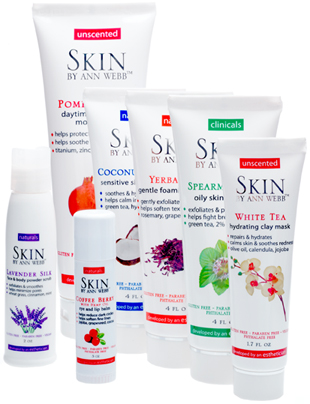 but soon I'd be seeing breakouts again and I couldn't figure out why. Lately I've been mixing up my skincare routine and I've seen a big difference. I'll use SkinID, but I'll also mix in plain ole Cetaphil and this Spearmint Tea cleanser by Skin by Ann Web.
3.) Don't over cleanse: This one sounds strange, but it's true. I used to be an obsessive face washer and was also in love with those oil-absorbing sheets. I couldn't understand why I was still breaking out when I was taking such good care of my skin. Turns out I was actually doing more harm than good. I asked my dermatologist and found out that when you wash your face too much and take away too much oil, you can dry your skin out too much and force it to produce more oil. Definitely counterproductive. Now I just wash my face in the morning and at night and I go easy on the oil-absorbing sheets.
4.) Don't rest your face in your hands: I didn't even realize how often I was leaning my head in my hands during the day until my doctor brought it up. What? I get tired… But touching your face with your oily, greasy hands is a quick way to make yourself break out. Avoid it if you can.
5.) Microdermabrasion is the truth: My dermo suggested that microdermabrasion might work well for my skin. My very amateur explanation of microdermabrasion is this: it's basically a deep facial that exfoliates layers of dead skin and helps with acne and scarring. Normally you do six microderm treatments at a time (one per month), but I will say that I've seen huge results and I just finished treatment #3. The treatments are definitely pricey (mine are $125 each), but if you can afford them they are absolutely worth it.  I think microdermabrasion has contributed the most to getting my skin under control and keeping it that way. I never really knew about it before my doctor suggested it. I'm really glad I tried it.
Do you have any skincare secrets you swear by?